Andrew Crammond
"Very approachable and extremely conscientious - on his feet, nothing fazes him" Legal 500 
EXPERTISE
Andrew is an employment and business, property and commercial law practitioner.
Andrew has been at Trinity Chambers since 2008 and has vast experience in Employment Tribunals, Courts and Regulatory Hearings nationwide across England and Scotland.
Andrew currently acts as a junior being led by Mr Simon Goldberg in an ongoing, complex commercial dispute.
Andrew is a member of the Regional Panel of Counsel for the Government Legal Department having been appointed since 2015.
Employment & Regulatory
"Very approachable and extremely conscientious - on his feet, nothing fazes him" Legal 500 2021
"Very passionate and puts everything into his cases." Legal 500 2020
Andrew regularly represents both claimants and respondents (of all sizes from small businesses to FTSE 100 organisations, as well as local authorities and government bodies), including against Silks, in complicated employment law matters.
Andrew is well placed to deal with employment law matters and commercial and business matters relating to employees and business (such as restrictive covenants, confidentiality clauses and injunction applications).
Andrew has appeared at the EAT (in both London and Edinburgh) and regularly provides advice and drafting in relation to Employment Tribunal and Employment Appeal Tribunal matters.
Andrew routinely represents clients in all matters of employment law and has acted in numerous complex Employment Tribunal cases.
Andrew also has particular experience in cases involving the medical, health care and social work professions – including doctors, nurses, social workers and veterinarians, as well as a range of other health care and professional practitioners. Andrew has successfully represented clients in numerous difficult and complex regulatory hearings, including in cases lasting over 10 days.
Andrew regularly delivers seminars and training in relation to regulation in the health care and social professions, in relation to which Andrew has been described as an: "Excellent presenter who brought the subject to life. Great insight on a challenging but interesting area of law"
Business, Property & Commercial 
Andrew has substantial experience in numerous areas of business, property and commercial matters. This includes in relation to high value disputes and claims or applications for injunctions (interim and permanent).Andrew represents claimants and defendants in claims relating to:
Restrictive covenants, restraint of trade and injunctions
Breach of confidence, misuse of confidential information, breach of legal privilege and breach of fiduciary duties
Unlawful means conspiracy, procuring a breach of contract and knowing assistance
Insolvency matters (including directors duties, statutory demands and petitions for winding up and bankruptcy, abuse of process arguments and appeals)
Professional negligence
Partnership disputes
Landlord and Tenant disputes (commercial and residential)
Contractual disputes and sale of goods
Possession proceedings
Andrew has also gained invaluable experience working offshore (Guernsey) in a well known, reputable firm of Advocates for an extended period of time, working on large, complex business, commercial and chancery/insolvency cases.  
Personal Injury & Costs
Andrew undertakes both claimant and defendant work in a range of personal injury matters, from road traffic to industrial injury/disease claims (including complex mesothelioma claims). He represents clients at CCMCs, applications, final hearings (including multi-track hearings) and on all matters relating to costs and assessment of the same. He also has experience in holiday related claims, employer's liability and occupiers' liability cases.
MEMBERSHIPS
Regional Panel of Counsel for Government Legal Department (formerly Treasury Solicitor)
Lincoln's Inn (since 2006)
EDUCATION & AWARDS
Law LLB, Durham University (2004 – 2007) – First Class (Honours)
BVC, Nottingham Law School (2007 – 2008)
Ward Hadaway Bursary winner – 2004 (financial award and two summers of work experience)
Lincoln's Inn Hardwicke Entrance Scholar
ADDITIONAL INFORMATION
Andrew is authorised to accept instructions under the Bar Public Access scheme.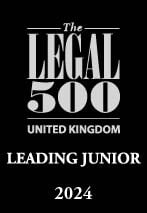 "Andrew's experience and knowledge assisted in achieving a good outcome for the claimant. He was also easy to get in contact with and responded quickly to urgent matters." "Andrew has handled some complex cases and is always excellent." "Andrew is a top quality barrister. He demonstrates exceptional attention to detail and is passionate about delivering high level service"

Employment, Chambers & Partners 2024

"Andrew is excellent: personable, able to grasp complex issues, and very good with clients"

Employment, Chambers UK 2023

"A junior with excellent court skills, knowledge and advocacy. Ranked: Tier 1 "

Employment, Legal 500 2023

"He is always great with clients and our team, and is a consummate court performer." "Andrew has great technical knowledge and is very easy to work with." "He is a thorough and skilled advocate who was clearly well prepared, keen to work with his instructing solicitor, and very reassuring to the client"

Employment, Chambers & Partners 2022

"Very approachable and extremely conscientious - on his feet, nothing fazes him"

"Very passionate and puts everything into his cases"
hearing lasting over 30 days for whistleblowing (detriments and automatically unfair dismissal) claim for a Respondent, successfully defending such claims
hearing lasting 3 days, successfully representing a Claimant in a claim for numerous acts of disability discrimination arising in consequence of disability, harassment and victimisation
3 days hearing representing a claimant against a local authority in a whistleblowing detriments claim
uccessfully advising and representing a local authority in a disability discrimination claim made by an employee on long term sickness absence, which included various allegations of disability discrimination (including victimisation)
successfully representing a respondent in a claim for sex discrimination, failure to deal appropriately with a flexible working request and constructive (unfair) dismissal
successfully representing a respondent in defending a constructive unfair dismissal claim and successfully bringing a counterclaim against the claimant
epresenting and advising individual claimants in complex equal pay claims
10 days hearing successfully representing a claimant in a victimisation (race) claim
8 days hearing successfully representing two claimants in an unfair dismissal claim involving complicated issues as to anonymous witnesses
representing, advising and drafting pleadings in relation to historic and complex claims of disability, sex and other discrimination, whistleblowing and multi-handed (including against five respondents) TUPE transfer and unlawful deduction of wages claims