Helen Hogben
"A superb and fearless advocate, her commitment to her clients is second-to-none." Legal 500 
EXPERTISE
Employment & Regulatory Law
Education Law
Professional Conduct and Discipline
Financial Remedies on Divorce
Inquests
Employment
Helen is a highly experienced barrister specialising in employment and discrimination law. Before being called to the Bar in 2006, she enjoyed a successful commercial career which has served her particularly well in employment matters, enabling her to cut quickly to the pertinent issues and offer sound, practical advice.
Her client base is diverse and includes businesses, private individuals, local authorities and trade unions. She was appointed to the Regional B Panel of Junior Counsel to the Crown in 2023 and has a national practice, regularly appearing in tribunals across the UK, including Scotland.
She has an impressive track record in a wide range of employment law matters including unfair and wrongful dismissal, redundancy, TUPE, contract claims including applications for injunctive relief, discrimination because of sex, race, age, disability, religious belief, pregnancy and maternity, gender reassignment and sexual orientation, harassment, whistleblowing, unlawful deduction from wages and holiday pay claims.
Helen has appeared at the EAT and has represented clients in several complex and lengthy Tribunal cases. She has extensive experience in cases involving allegations of discrimination, victimisation and whistleblowing, particularly in the NHS and the Police. Notable cases have included:
 XC Trains Ltd (appellant) v. CD and others (respondents) - [2016] IRLR 748 - Helen represented the Claimant train driver on the Respondent's appeal to the EAT in a case involving indirect discrimination. The EAT held that the ET's decision that a PCP (i.e. irregular shift patterns) put the Claimant at a particular disadvantage was unassailable.
In Khan & Others –v- Chief Constable of Cleveland Police, Helen represented two police officers in their high-profile race discrimination claims against Cleveland Police which led to an open settlement of £185,000 https://tinyurl.com/y8taexco
Helen represented the Respondent in an 8-day final hearing involving multiple allegations of whistleblowing detriment, constructive unfair dismissal and detriment for having carried out health and safety responsibilities
Helen represented two Claimants in a 10-day final hearing involving complaints of age discrimination, victimisation and less favourable treatment because of part-time worker status
Education 
Helen also has a thriving education law practice. She offers advice and representation to parents, schools and local authorities in cases concerning discrimination in schools, access to SEN provision, admission decisions/appeals and pupil exclusion decisions. She receives regular instructions from local authorities across the country in appeals to the First-Tier Tribunal (Special Educational Needs and Disability).
Helen sits on a voluntary basis on a local authority Independent Review panel which considers appeals against permanent exclusion decisions. Acting pro bono, she recently represented two students before the IRP. The IRP quashed the school's decision to permanently exclude them on the grounds of illegality and the students successfully completed their secondary education. One of them has since gone on to study Law at University.
Professional Discipline/Regulatory 
Helen has experience in advising and representing professionals facing disciplinary or regulatory proceedings including students in the higher education sector, teachers, police officers and medical professionals.
Financial Remedies on Divorce
Before commencing pupillage, Helen taught the Matrimonial Finance module on the Bar Vocational Course at Northumbria University. She accepts instructions in financial remedy proceedings including applications for maintenance pending suit.
Inquests
Helen also has experience representing interested parties in Coroners' inquests. Her clients have ranged from GP practices to individual police officers.
APPOINTMENTS
Government Legal Department Junior Counsel to the Crown - Regional B Panel
LECTURES & SEMINARS
Helen regularly delivers seminars and lectures in her specialist areas
MEMBERSHIPS
North Eastern Circuit
Gray's Inn
Employment Lawyers' Association
EDUCATION & AWARDS
Atkin Scholar (Gray's Inn 2007)
Best Overall Student and Best Advocate (BVC - University of Northumbria 2006)
University of Northumbria – Bar Vocational Course (Outstanding)
College of Law, London – Graduate Diploma in Law (Distinction)
MA (Hons) University of St. Andrews – German & International Relations (2:1)
ADDITIONAL INFORMATION
Helen was born and bred on Teesside where she lives with her husband, children and two dogs. She is passionate about widening access to the legal profession and in 2022 she set up the Aspiring Advocates' Programme, an outreach initiative targeted at state school pupils.. She is Chair of Governors at a local secondary school and also a trustee for a local charity which is aimed at increasing access to music education. Helen is accredited under the Bar Council's Public Access Scheme and regularly represents both individuals and SMEs directly in employment matters.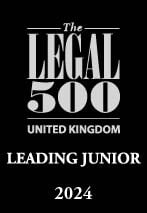 "Helen has unwavering dedication to her clients and will stop at nothing to achieve the best outcome for them. Ranked: Tier 2"

Employment, Legal 500 2023

"Helen grasps the complexity of her clients' cases in a forensic manner. Her clients are left in do doubt that their interests will be pursued tirelessly and effectively for as long as they have her in their corner."

Employment, Legal 500 2022

"A superb and fearless advocate, her commitment to her clients is second-to-none."

"Brilliant with clients and extremely thorough"

"Helen Hogben has particular experience in cases of victimisation and discrimination involving police forces and the NHS" and is "an adamant and painstaking cross-examiner""

Employment, Legal 500 2019